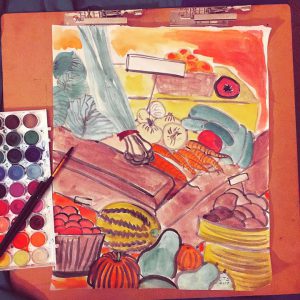 Winter has descended upon the Annapolis area, yet the Langton Green Community Farm in Millersville, is permanently sunny. A brightly-colored mural, unveiled last fall, lingers against the frosty landscape. It is a vibrant picture which captures the spirit of the farm, as well as the spirit of artist Ceaira Shell, a 28-year-old with a bright future ahead of her.
Working part-time, Shell completed the mural over a time span of six weeks. And while the magnitude of her piece may seem staggering, Shell is no stranger to large-scale projects. She gathered experience in high school, where she helped her fellow classmates create various artworks (one of which was also a mural).
This most recent endeavor was inspired by Shell's observations of Langton Green and their community farm. She wanted to incorporate images that embodied the people seen around the farm, as well as their passion for agriculture and for creating inclusive community. However, Shell is also a self-described "city girl", and she drew on this experience to integrate urban elements into the piece. The final result is a unique portrayal of the fusion between rural and metropolitan neighborhoods.
In the future, Shell plans to produce and sell artwork. While she is interested in creating more murals, she also intends to expand her talents into the area of children's book writing. Anyone who is interested in her work can follow her artistic progress on Tumblr (@CeCeink) or on Instagram (CeairaShell and ceartist321).