The sunflower painting on the cover of Langton Green's new Annual Report was created by one of Langton's residents. A special thanks to cover artist, Gayle, who lives at Langton Green and occasionally enjoys working at the Langton Green Community Farm.
Gayle's sunflower painting captures Langton Green's warm, personal atmosphere. We take pride in the fact that we are one of the premier agencies in our region, offering individuals a chance to grow and learn – while living the life they choose.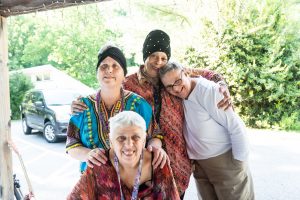 "Langton Green is a community, an extended, supportive family that was started by families talking around a kitchen table more than 30 years ago. Parents wanted and demanded more for their sons and daughters with disabilities. These same informal 'kitchen-table' conversations will shape our path in the future." 

– Kimberly Breton Iaquinta, Executive Director
The theme of the 2018 Annual Report "In Gratitude" celebrates our community and the support we receive from our generous partners, donors, volunteers, families and friends.  The Annual Report highlights our accomplishments, innovative programs at the Farm, community partnerships, our amazing staff—and the skill and dedication we bring to each individual in our care.
Individuals at Langton Green enjoy caring for others.

"We support some of the most vulnerable individuals in Anne Arundel County and we are truly gratified to see them thrive at Langton Green. My door is always open and I welcome a conversation with each of you – employees, family members, volunteers, partners –all are welcome.  We are all "Growing Together"!"

– Kimberly Breton Iaquinta, Executive Director